Longing for a brighter and whiter smile? We can help
Teeth whitening is now the most commonly requested cosmetic dental procedure1.  With greater demand for cheaper and more convenient teeth whitening products, many have resorted to buying teeth whitening products online as well as trying numerous do-it-yourself (DIY) methods using natural ingredients like strawberry puree, etc.
There are 4 options for teeth whitening:
In-office whitening
Take-home whitening
Over-the-counter (OTC)
Non-dental options
In-office teeth whitening is done by the dentist in the clinic and this involves the application of a hydrogen peroxide bleaching gel. These whitening agents penetrate your teeth to break down the discoloured molecules deep down in your teeth and whitening your smile.
2. Take-home whitening kit
Take-home whitening kits are used at home. The home whitening kit can be used on its own or in combination with in-office whitening, to maintain or improve whitening results. This usually involves taking impressions of your upper and lower teeth to fabricate custom bleaching trays. At home, you will fill each tray with a whitening gel (usually carbamide peroxide) your dentist provides. You will wear the trays for several hours every day, according to your dentist's advice. Carbamide peroxide gel will break down into hydrogen peroxide which whitens the teeth.
3. Over-the-counter (OTC)
Over-the-counter (OTC) whitening products include gels, rinses, chewing gums, toothpastes, paint-on films and strips, which are readily available at pharmacies and your local supermarket. The problem with these products is that they do not offer any protection to the gums during bleaching and therefore causes more discomfort.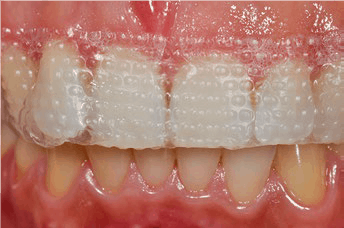 The latest teeth whitening trend is the availability of whitening treatments or kits in non-dental retail settings, such as mall kiosks, salons, spas and, more recently, aboard passenger cruise ships. Non-dental whitening venues have come under scrutiny because the involved personnel are not educated in the use of disease screening or diagnostic tests (such as radiographs), and are not licensed or qualified to provide dental examinations. Additionally, their level of education and training in infection control is unknown (infectious diseases such as COVID-19 can spread via contact with saliva).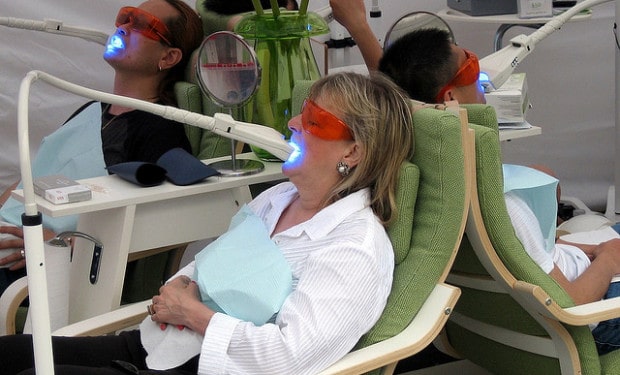 Comparison of different teeth whitening techniques2
| | In-office whitening | Take-home whitening | Over-the-counter (OTC) | Non-dental |
| --- | --- | --- | --- | --- |
| Active ingredient | HP | HP or CP | HP, natural ingredients | HP |
| Concentration | ≤ 40% HP | 7-35% CP | ≤ 12% HP | ? |
| Activator | Chemical, LED, laser | Chemical | Chemical, light | Chemical, light |
| Effectiveness | Very good | Very good | Moderate | Questionable |
| Safety | Safe | Safe | Moderate | Questionable |
| Cost | $$$ | $$ | $ | $$ |
| Treatment time | ~1 hour | A few weeks | A few weeks | 1 hour or more |

*HP – hydrogen peroxide, *CP – carbamide peroxide
So, what's the best option among the 4 choices of teeth whitening?
The safest and most effective teeth whitening methods are still in-office and take-home whitening. Both work equally well. However, in-office whitening produces the fastest results.
Here at Tan Dental Surgery, we offer both options for teeth whitening:
Most patients would opt for a combination treatment, whereby after a session of in-office teeth whitening, they will get a take-home whitening kit to whiten the teeth further or for maintenance.
Is it safe to buy whitening products online? They are so cheap!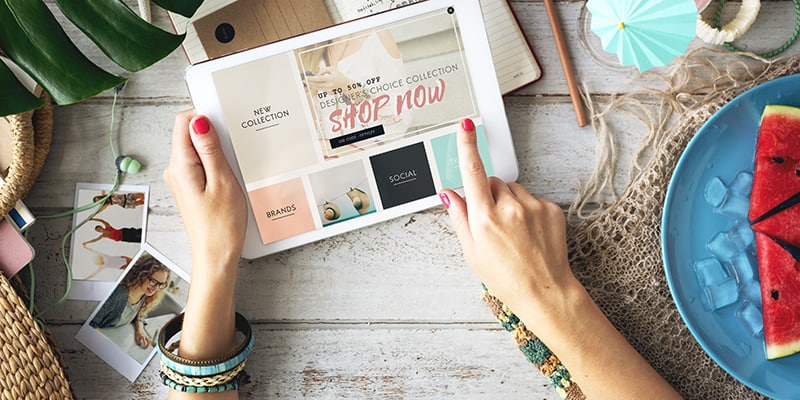 The most effective whitening agent is still hydrogen peroxide. However, only dentists can prescribe hydrogen peroxide-based products for teeth whitening.
Most of the teeth whitening products sold online do not contain hydrogen peroxide. For products which contain hydrogen peroxide, the concentration and safety as well as effectiveness of the products are unknown.
So, the bottom line is that it is best to avoid online teeth whitening products. They might cause more harm than good. We are very excited to help brighten your smile. Don't hesitate to contact us for a teeth whitening session.
Interested in other options to improve your smile? You can check out our braces related posts by clicking here. Feel free to contact us for a no obligation braces consultation.
We are happy to give you a quote
Just send us a message on WhatsApp